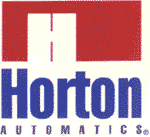 Below are examples of Horton Automatic doors that have been installed by Capitol City Door, Inc. Below each example you will find a brief description of the door and some technical information.
Horton Series 4500 complete door/operator system
Double egress
Optional features include: Medium stile door panels, 10" bottom rails, and 4" muntins
Finished with Horton Automatics standard 313R1 dark bronze anodized
Horton Automatics Vista 1 system provides the activation and safety system necessary to comply with ANSI 156. 10 1999. The Vista 1 system uses "Wave" motion detectors to activate the doors, presence detectors on the approach side provide a light curtain at the threshold and a BEA Bodyguard diffused active infrared presence sensor protects the swing path of the door as well as the guide rails. Optional BEA focused active infrared Super Scans protect the approach and safety sides of the doors.
---
Horton Automatics offers 3 series of Automatic sliding doors, all designed and engineered for heavy trafic flow and low maintenance cost.
Series 2000, Linear Drive (Photo 1, Hope Village Assisted Living Facility in Canby, OR)
Series 2001, Belt drive- used in large or industrial applications (Photo 3, Home Depot in Portland, OR)
Series 2003, Belt drive- used in commerical applications (photo 2, Fred Meyer in Clackamas, OR)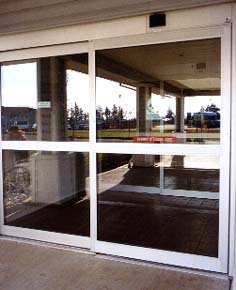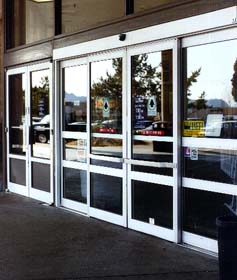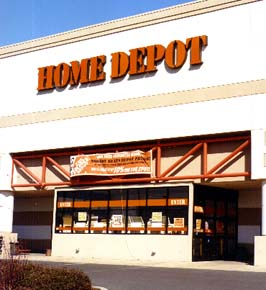 Horton Automatics invented the sliding door in 1960. We have been installing Horton Automatic sliding doors since 1962. Horton Automatics manufacturers automatic sliding doors for commercial, clean room, light industrial, and heavy, industrial use, as well as ICU/CCU manual sliding doors All of the series are microprocessor controlled. Standard activation is motion detectors mounted to the header on each side of the door for detection of traffic in each direction, with C1304 dual safety beams mounted in the vertical rails of the sidelite or jambs for safety. The Horton optional Apex Door Sensor System is an intelligent system with dedicated data link between the sensors and the door operator. The Apex uses a combination of microwave technology to detect motion and focused active infrared to detect a presence in the door opening and hold the door open until cleared.
---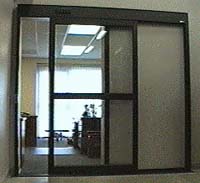 Horton 2000 Linear SX-P surface applied to the wall. This type of unit is ideal for applications when you don't want a door swinging out into the corridor and you have a restricted wall opening.
---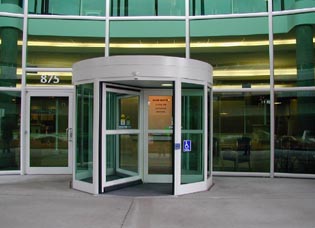 Salem Hospital Center for Outpatient Services-Salem, OregonHoton Automatics 9300 Easy Flow Automatic 3-Wing Segmented Revolving Door
with optional Vista/ Stop and Toe Guard Safety

---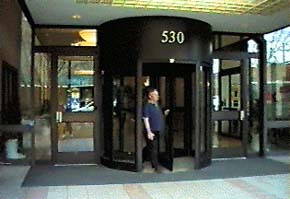 Equitable Center-Salem, Oregon
Horton Series 9531 Manual 3 wing segmented revolving door with round canopy and manual speed control for friction-free rotation at low speeds. Segmented doors are economical and practical, offering up to 30% cost savings.
The adjacent swing door includes Horton Automatics7000 easy access low-energy, barrier-free swing door operator with adjustable opening and closing speeds,time out safety, adjustable time-delayed hold open, push button activation, Push-N-Go and optional soft touch reverses a closing door if it is stopped during the closing cycle.
---
The Horton 4-7200 and 4-4200 packages are ideal for areas that require an automatic two- way traffic door, but lack the space for automatic sliding or swinging doors. Single and paired bifolding doors give you a large opening in minimal space. Horton Automatics offers two series of operators designed for your traffic needs.
These pictures are from Oxford Suites in Portland, OR.
---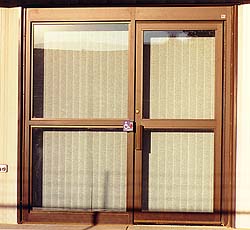 The Horton 7500 is a complete package that includes an overhead concealed 7000 Easy Access operator with independent pivot or direct drive. Narrow stile, medium stile or wide stile doors are available as are optional transoms and sidelites.
---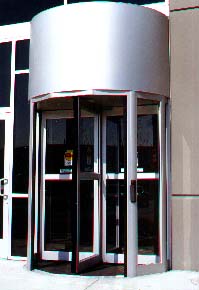 Volkswagen Collection Center, Hillsboro, OR is a great example of Horton's revolver series 9241 2-way security 4-wing segmented door.
---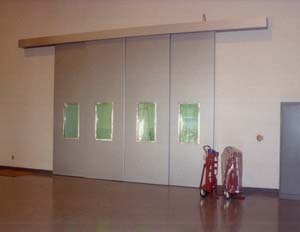 Tokyo Electron based in Hillsboro, OR shows a cleanroom industrial automatic slider series.
Top of Page